Histopathological and biochemical alterations of kidneys in albino mice infected by Visceral leishmaniasis and the role of Aloe vera crude
الكلمات المفتاحية:
Visceral Leishmaniasis (VL), BALB/c mice, Aloe vera, and histopathological and biochemical alteration and Taiz and Yemen.
الملخص
Leishmaniasis is a disease caused by Protozoan parasite Leishmania. It is transmitted to humans by the bite of blood sucking insects called sand flies. Visceral Leishmaniasis (VL) has widely distributed in the world including Yemen. The aim study to the histopathological and biochemical alteration of the albino mice kidneys infected with visceral leishmaniasis. 56 mice were classified into three groups: (A) 20 BALB/c mice as control, (B) 20 mice infected by (2x107) parasites for each animal through tail vein and (C) 16 mice were infected by (2x107) parasites and treated with Aloe vera extract (15mg/kg/5days). These animals were sacrificed at 20, 40, 60, 80 and100 day post infection (P.i.). The results showed mortality rate in mice  reached 11.11% and recognized significant decrease in body weight from controls; Various histopathological changes including: damage of glomerulus where the it epithelia were hypertrophied and possessed pyknotik nuclei .necrotic changes in proximal and distal convoluted tubules, degeneration and infiltration of glomerular tufts by chronic inflammatory cells and red blood cells, swelling of tubular epithelium and vacuolation. Also showed a significant increase in the values of urea and Creatinine of infected mice, The giving Aloe Vera plant crude (15 mg / kg / 5 days) to mice infected with visceral Leishmania shows stimulated tissues healing and repair gradually while some of the pathological changes are stilllimited.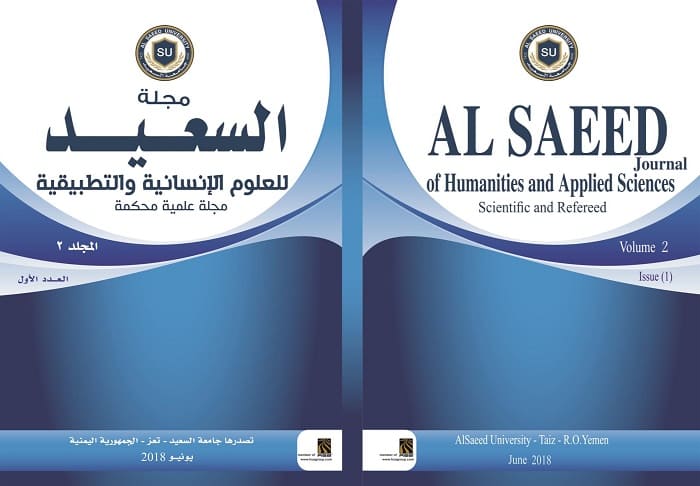 التنزيلات
كيفية الاقتباس
Mohimeed, R., & Abdullah, R. (2018). Histopathological and biochemical alterations of kidneys in albino mice infected by Visceral leishmaniasis and the role of Aloe vera crude. مجلة جامعة السعيد للعلوم الانسانية و التطبيقية, 2(1), 9. https://doi.org/10.59325/sjhas.v2i1.49