Epidemiology of Bacterial Urinary Tract Infection and Antibiotics Sensitivity among Pregnant Women at Taiz City, Yemen
الكلمات المفتاحية:
Urinary Tract Infections, Pregnant women.
الملخص
Background: Bacterial Urinary Tract Infections (UTIs) is an infection caused by the presence and growth of bacteria anywhere in the urinary tract. Objective: The present study was done to evaluate epidemiology of UTI (prevalence, risk factors, bacterial isolates and antibiotic sensitivity) among pregnant women in Taiz, City, Yemen. Methods: A cross-sectional study design was used for this research from March 2022 to July 2022, including 200 outpatient cases of pregnant women, obtained from hospitals in Taiz-city, Yemen. Urine specimens of pregnant women using midstream urine. Bacteria were identified by standard microbiological methods. Results: Escherichia coli was the most prevalent isolate, it was recovered 36 (42.86%) of total bacterial UTIs samples, followed by Staphylococcus aureus as the second most common representing in 24 (28.57%), and Klebsiella sp was appeared in 15 (17.86%), the Proteus sp was representing in 5 (5.95%), and Staphylococcus saprophyticus appeared in 4 (4.76%). The remaining urine sample isolates were non-bacterial growth (negative cases), representing 116 (58%). Bacterial UTIs were highly present in the age group between 25-34 years, secondary education patients, housewife patients, third pregnancy or above, and during the third trimester. Escherichia coli isolates were (100%) sensitive to Tobramycin, Ceftazidime, Ceftriaxone and Aztreonam. Klebsiella sp isolates were (100%) sensitive to Tobramycin only. Proteus sp isolates were (100%) sensitive to Tobramycin, Ceftazidime, and Ceftriaxone. Staphylococcus saprophyticus isolates were (100%) sensitive to all antibacterial drugs except Methiciliin. Staphylococcus aureus isolates were (100%) sensitive to Tobramycin and Aztreon. Conclusions: Escherichia coli washwhfhj the most prevalent isolate from urine of pregnant women. The most important risk factors are third pregnancy, third trimester, and symptomatic bacteruria. Most of the tested antibiotics showed sensitivity to the bacterial isolates. Urine culture for screening and diagnosis purpose for all pregnant is recommended.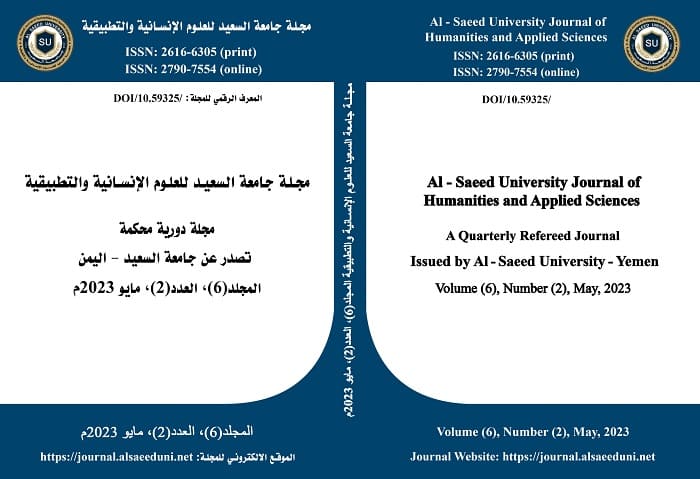 التنزيلات
كيفية الاقتباس
Al-Kolaibe, A., & Helmy, E. (2023). Epidemiology of Bacterial Urinary Tract Infection and Antibiotics Sensitivity among Pregnant Women at Taiz City, Yemen. مجلة جامعة السعيد للعلوم الانسانية و التطبيقية, 6(2), 282–307. https://doi.org/10.59325/sjhas.v6i2.158