Factors lead to delay Management of Breast Cancer among Female Patients Under Therapy in Hadhramout Oncology Center-Mukalla 2021-2022
الكلمات المفتاحية:
Breast cancer, Oncology center, Mukalla City Delayed management.
الملخص
Breast cancer is the most frequent malignancy tumors among women. Without treatment, a malignant breast tumor advances in stage, diminishing a woman's chances of survival, Advanced breast cancer presentation remains a large obstacle in lowering mortality rates in low- and middle-resource countries. This study aims to explore the reasons that cause women present with breast cancer at an advanced stage. in Hadhramout Oncology center in Al -Mukalla city, Yemen.
Methods: A descriptive cross sectional design, eighty–eight patients were selected from admitted patient's to clinics in Hadhramout oncology center-Mukalla. Data was collected from 7th February to 10th August 2022, Data was collected through face-to-face interviews using a structured questionnaire.
Results: The results of the present study revealed that majority of participants 73 (83%) were between 31 and 60 years of age. More than half of them 50 (56.8%) are educated while a great majority 83 (94.3%) are housewives. Most presenting symptom is the presence of painless lump in the breast with more than half of the entire sample involved in the research equal 53 (60.2%). Presence of the ulcer over the breast was the less presenting symptom in this study (11.4%) of all cases involved.
     There's significant relation between education and place of living (Urban-Rural area) and use of traditional treatment (P-value=<0.05). There's no significant relation between disease stage and level of education (with P-value=.576), socioeconomic statue (with P-value=.133). Finally, there's no significant relation between socioeconomic status and disease stage with (P-value=.133).
Conclusion and Recommendation: This study revealed that most participants has positive perspective toward factors that lead to delayed management. The ministry of public health recommended to establish more cancer centers to facilitate early detection and treatment for patients, increase number of media campaigns concerned with awareness-raising and early screening method and improve the health workers proficiency in early detection of breast cancer.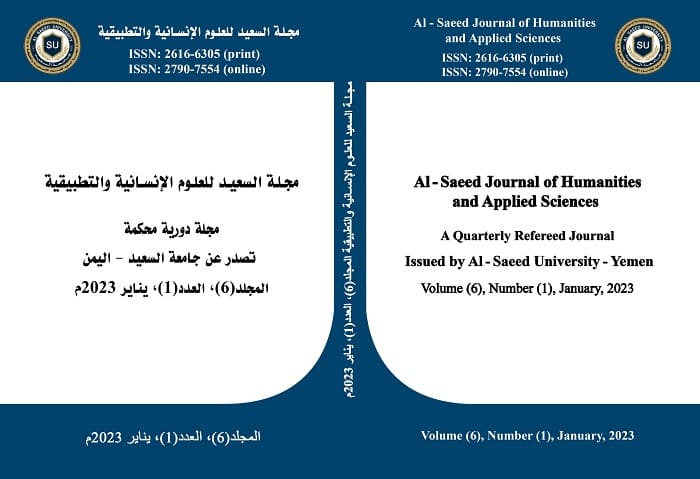 التنزيلات
كيفية الاقتباس
Alhanshi, A., & bamatraf, L. (2022). Factors lead to delay Management of Breast Cancer among Female Patients Under Therapy in Hadhramout Oncology Center-Mukalla 2021-2022. مجلة جامعة السعيد للعلوم الانسانية و التطبيقية, 6(1), 171–186. https://doi.org/10.59325/sjhas.v6i1.125